Plant-Based = Low Calorie, Right?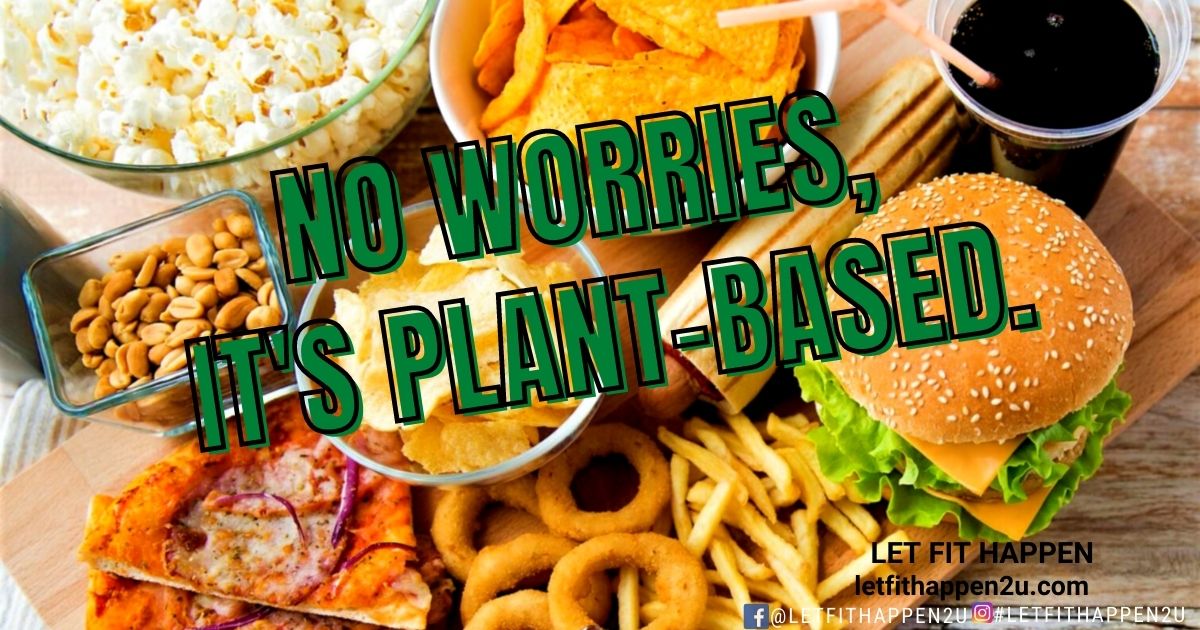 You've decided to switch to eating a plant-based diet for its many health benefits. So now, you can eat whatever and as much as you want, right?
Wrong.
Even on a plant-based diet, where you're excluding or minimizing meat, dairy products and eggs, you can find plenty of foods that are high-calorie and high-fat that you'll want to minimize or avoid if you want to lose weight.
Besides the hopefully obvious culprits like highly processed, plant-based, vegan junk foods (e.g., chips, fries, crackers, cookies, ice cream, candy, etc…), here are some other plant-based foods that can be shockingly high in fat and calories:
Meat substitutes:
These items (e.g., Impossible Burger, Beyond Meat) are often highly processed and often contain hidden sugars, refined carbs, and foods that lack fiber or real nutrients. And because processed foods contain addictive ingredients such as excess sugars, salt, and unhealthy fats, people tend to eat more.
INSTEAD:  Make your own burgers using beans, whole grains, veggies and spices or buy brands that use these kinds of recognizable whole-food ingredients.  
To try:  Black Bean Burgers 
Cheese substitutes:
There are a variety of dairy-free cheese substitutes widely available. But beware, some are highly processed, have less nutritional value than others, and may contain added starches, thickeners such as carrageenan and xanthan gum, and a lot of salt and high fructose corn syrup. Also, while healthier than dairy cheese (which contains cholesterol-boosting saturated animal fat and may contain growth hormones), dairy-free (vegan) cheese is often made from soy or nuts so is still relatively high in calories.
INSTEAD:  Make your own using plant-based ingredients like soy, tree nuts and seeds, coconut, and root vegetables or buy brands that use these kinds of recognizable whole-food ingredients and enjoy in moderation as a topping on your pasta or pizza or as a single layer in a delicious grilled-veggie sandwich.   
To try:  Tofu Ricotta
Drinks
:
Regardless of your eating style, beverages such as fruit juices, coffee drinks, protein shakes, sodas, sweetened teas and alcohol are often very high in sugar and very low in nutrients. And while fruit and veggie smoothies contain healthy nutrients and can be high in fiber, they can also be very high in added sugars and therefore high in calories. Also, the calories we drink only fill us up temporarily, meaning you'll be hungry again shortly after and you'll likely eat the same sized meal despite having just drank a high-calorie beverage.
INSTEAD: Make your own beverages with less/no added sugar and enjoy them in moderation. And if making smoothies, add more veggies than fruit (higher in calories) and consider using green tea instead of non-dairy milk as a base. And when craving a cool drink, try a refreshing glass of water with lemon or cucumber slices and some sprigs of mint.
To try: Green Smoothie
Sweets and Desserts:
Just because it's plant-based doesn't mean it's low calorie. For example, ⅔ cup of Ben & Jerry's Vegan Chocolate Chip Cookie Dough has 350 calories, 33 grams of sugar, and 11 grams of saturated fat. Whoa, that's a lot for a small scoop of ice cream! Even healthy raw plant-based desserts usually include high-calorie ingredients like nuts and dates. And plant-based, vegan desserts at restaurants and stores usually include oils and refined sugar, making them higher in calories.
INSTEAD:  Make your own desserts to limit added oil and sugar or buy brands that use recognizable whole-food ingredients. And when you treat yourself to that occasional, decadent sweet treat, eat it slowly and savor its deliciousness. 
To try: Double Chocolate Cupcakes or Nice Ice Cream
Oils:
While plant-based oils like olive oil, coconut oil, avocado oil, sesame oil, flaxseed oil, etc… lack saturated fats (aka "bad fats") they are still high in fat and therefore very high in calories and have little/no nutrients. Oil is the most calorie-dense food by volume! One tablespoon of olive, sesame or coconut oil ≈ 120 calories. So, if you're using oil for cooking and drizzling some on your salad or on your pasta or pizza, that's a lot of added calories!
INSTEAD:  Try using water when stir-frying or sauteing (here's how), try topping your salad with fresh lemon juice or an oil-free dressing and try topping your pasta or pizza with an adventurous new herb or seasoning mix.   
To try: No Oil Carrot Ginger Dressing
Nuts and Nut Butters:
While a great source of protein and healthy fats, nuts, seeds and nut/seed butters are very high in fat and calories. For example, an ounce of walnuts ≈ 185 calories and a tablespoon of peanut butter ≈ 100 calories. That's a lot! And who stops at one handful or one tablespoon of delicious nuts or peanut butter (not me). And, many commercial brands often include palm or hydrogenated oils, sugar, salt, corn syrup, and other ingredients that jack the calories up even higher. However, the purest nut butters contain nuts – that's it.
INSTEAD:  Enjoy them in moderation. Put a handful of nuts or seeds in a small dish and slowly savor them or sprinkle some on your salad or in a stir-fry. And for nut butters, either make your own or buy brands without added oil and sugar and again, enjoy in moderation.  
To try: Homemade Peanut Butter
So…to summarize:
Just because something is labeled "plant-based" or "vegan" doesn't mean it's low fat, low calorie or even healthy. Read labels and choose brands with recognizable ingredients (actual food!). 
Also, consider shifting your mindset. Instead of following a "plant-based" diet, consider following a "whole-food, plant-based" diet. This will help you remember to focus on eating whole, minimally processed foods including delicious veggies, naturally-sweet fruits, hearty whole grains and legumes, tasty nuts and seeds and a variety of fragrant herbs and spices. The variety of delectable whole plant foods is endless, so explore and awaken your taste buds! 
And while you can lose weight when eating a whole-food, plant-based diet without measuring your servings or counting calories, you still have to eat mindfully: eat sensible portions, eat when you're hungry and stop when you're full.
Stay healthy y'all.
I'D LOVE TO HEAR FROM YOU!
Leave me a comment below. It would really make my day!
You can also follow me on Facebook and on Instagram.