Top 5 Reasons You NEED to Strength Train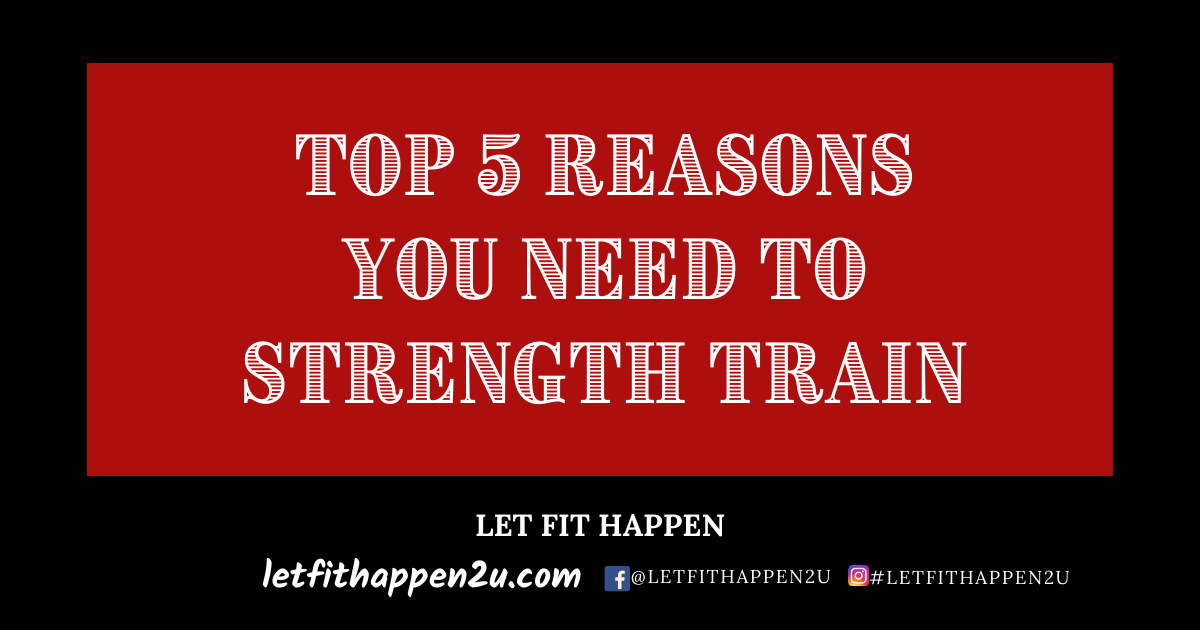 Of course there are various forms of exercise that will help you strengthen your muscles, but here are my top 5 reasons why strength training is the best.
Strength training (aka muscle toning/resistance training):
5. Anyone can do it! All fitness levels, all abilities, ALL AGES.
Strength exercises can be modified to be more or less intense so anyone can do them regardless if you're a newbie or a veteran, and regardless of your age, whether you're 25, 55, or 75, all are welcome!
4. Can be done anywhere with no or minimal equipment.
You can strength train in your home office, living room or garage or at the park, and you don't need much space. And you can use your body weight or grab a set of hand weights, resistance bands, water bottles or soup cans, it's all good! As long as you push your muscles out of their comfort zone, you're strengthening them!
3. Can reduce the risk of osteoporosis and improve balance.
As we age, we naturally lose bone density, potentially leading to osteoporosis, and muscle, potentially making us less stable. But by strength training, we not only increase our muscle mass, we strengthen our bones too. Strong bones and strong muscles help us continue to walk tall without falling over and breaking bones.
2. Can reduce inflammation and symptoms of chronic diseases.
If your joints are achy and you regularly suffer from low-back pain, strength training can strengthen the muscles that stabilize your joints and decrease inflammation thereby alleviating or preventing your pain. And strength training can reduce the signs and symptoms of chronic conditions such as heart disease, depression and diabetes.
And likely one of the most important benefits for many of us, strength training:
1. Burns more calories in LESS TIME!
The more muscle you have, the higher your resting metabolism which means you burn more calories at rest AND your metabolism stays up for some time after the workout so you keep burning calories after you're done! Burning calories = burning body fat.
So, why wouldn't you do a workout that gives you the most "bang for your buck", the biggest return on your precious time?
Today's the day. Let's do this! 
---
I'D LOVE TO HEAR FROM YOU!
Leave me a comment below. It would really make my day!
You can also follow me on Facebook and on Instagram.